Dodge Grand Caravan Overview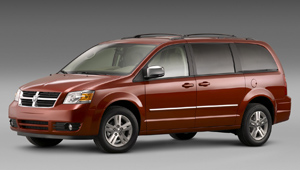 Some vehicles lead their segments; others even revolutionize them. The Dodge Caravan, however, invented an entirely new one: the minivan. Offering an especially useful amount of room in a surprisingly easy-to-drive package, the Caravan quickly became the new synonym for family transportation and spawned competitors from all sides.
The Dodge Caravan has traditionally stayed a step ahead of the herd. It was first to market with xenon lights and the sliding door, then the first with two. It pioneered the integration of safety features like airbags. And for many years, it was also regarded as being the most versatile and pleasant-driving minivan. Given all this, it should come as no surprise that the Caravan, along with its longer relative, the Grand Caravan, became the top-selling minivan year after year.
However, today's minivan scene is much different from the one of the 1980s or '90s. Though other American automakers have essentially given up trying to make competitive minivans, Japanese and Korean automakers have raised the bar considerably in the past few years. As a result, the Caravan fell behind in terms of power, driving refinement, interior design and safety content.
With the introduction of an all-new minivan for the 2008 model year, Dodge officially discontinued the short-wheelbase Caravan, offering only the extended-wheelbase Grand Caravan model.