Ford Econoline Overview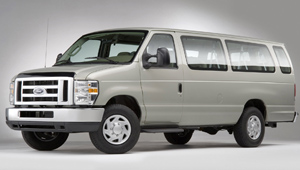 Driving an E-Series van is somewhat like piloting a big SUV, only there is a bit more rear overhang. Ford has done a good job making sure that certain aspects of the E-Series are not as gargantuan as the rest of the vehicle, such as placing the door handles down low so you don't have to reach up to operate them. In a nod to better visibility, the lower edge of the side glass extends far down the van's side, giving the passengers a good view in all directions and allowing the driver to see objects that might not appear in the sideview mirrors. The steering is moderately dampened to give the driver some sense of the road, and the ride is fairly smooth when the vehicle is fully loaded.
The E-Series offers a strong line of engine choices, with the base V8 delivering good power and torque for the standard-wheelbase models. Extended-length E-250 and E-350 models offer a choice of powerplants, including the Triton V10 and Power Stroke V8 turbo diesel. While there is no denying the Power Stroke's ability to tow, the added premium of over $7,000 is difficult to justify, especially when the V10 offers more horsepower and nearly identical maximum torque, though at a higher rpm.}
Though it has undergone extensive reworking over the years, the E-Series still retains the same basic shape that has defined Ford vans since the late 1970s. Large chrome trim side glass provides an excellent view from within. The panel vans make wonderful conversion projects and come with a long list of optional fittings to make the job easier for the contractor. Larger front and rear disc brakes and calipers are fitted with a new brake pad material that improves stopping power and reduces heat buildup.
Ford has done a good job minimizing the vastness of the E-Series' all-new instrument panel, at least from the driver's point of view. It's still a reach to access the audio, navigation and climate controls, but some redundant controls on the steering wheel greatly reduce the number of times you'll need to stretch your arm. Improved seating provides greater support in the passenger van, which includes 11- and 14-passenger configurations with an open center aisle. Factory installed options such as the Masterack tool storage system, Cable Lock tool security system and the QuietFlex rack and bin system allow owners to custom-tailor their vans to better suit specific work-related requirements.