GMC Savana Overview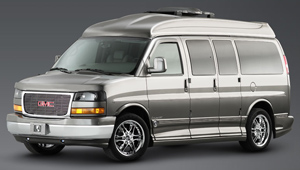 Though ostensibly anachronistic in today's world of SUVs, minivans and crossovers, the GMC Savana full-size passenger van still has its place for those who need to transport really large groups or lots of cargo mats. With maximum capacities that are double that of even the most commodious minivan, vans like the Savana are the vehicles of choice for large families, small-business owners and fleet operators.
Like every GMC product, the Savana is related to another General Motors product; in this case, it's the more well known and popular Chevrolet Express van. Both vans are a rolling testament to the "If it ain't broke, don't fix it" school of vehicle design, as they have been soldiering on for decades with only occasional updates.
Originally known as the "Rally wagon," GMC's full-size passenger van was renamed the Savanna in the mid-1990s. Interested shoppers will find that the current model's numerous wheelbase, powertrain and passenger configurations allow an appealing amount of customization.
If you're looking for a new or used van that's rugged, spacious and competent, the GMC Savana is a very good choice. However, those looking at new or late-model vans should also consider the Dodge Sprinter as it offers several advantages over traditional American full-size vans.