Hyundai H1 Overview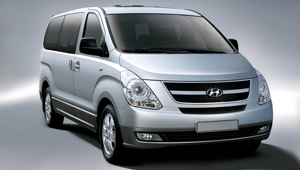 The Hyundai H1 (aka iLoad) is delightfully practical - particularly with the big gaping doors that slide open on both sides of the vehicle, making entry into the rear sections of the vehicle an absolute peach. The rear door opens vertically, leaving a very wide and easily accessible loading compartment at the rear of the van. By now, most vans have got the art of folding the seats away for larger luggage capacity - and the Hyundai H1 is no exception. If the luggage area is used to its fullest potential, a smidgen off 5.2 cubic metres can be swallowed in the back of this hardworking machine. You can really load the Hyundai iLoad up and pack it to the brim. Put all the seats up in the Hyundai H1 and the vehicle will seat 8 in absolute comfort. There are other seating configurations available, as obviously the Hyundai H1 can fit a number of luggage and passenger carrying capacities.
Inside the Hyundai H1, the woven cloth seats are beautifully crafted and supportive. Certainly to look at, and to sit in, the seats are pleasing and certainly mould to the shape of your body with remarkable ease. And as a driver of the van, you will appreciate Hyundai Accessories like the height adjustable driver's seat and the fold down arm rest - the front passenger will also enjoy the arm rest comfort too. The pleasant two-tone interior boasts powered windows in the front, and a grunty 4 speaker sound system with MP3 playing capacity - which will be a welcome luxury item for those riding in the roomy and comfortable Hyundai H1. Also provided in the Hyundai H1 is an auxiliary input jack. The air-conditioning system comes with a pollen filter and works very well to keep the temperature inside the big van a snug and relaxing temperature. If you are one who has to put up with all those little odds and ends that inevitably find their way into a motor vehicle, you will be pleased to know that the Hyundai H1 is blessed with many practically placed storage compartments for both the front and rear occupants.
Take a look under the hood and you could find the gutsy 2.4 litre petrol motor that is capable of hurling the big van along at 185 km/h. This motor has a five speed manual gearbox as standard. The alternative is the exceptional 2.5 CRDi turbo-diesel motor. One can describe this engine as being, not only a very smooth turbo-diesel when underway but, a power plant which is very fuel efficient. This is quite special when you consider that there is a whopping 392 Nm of torque available between a very low 2000–2500 rpm. The diesel motor provides seamlessly endless power for large and heavy loads – just what you want in a commercial vehicle.