Mercedes Sprinter Overview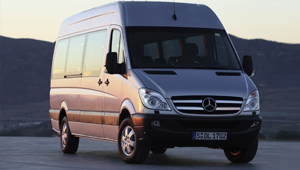 The Mercedes-Benz Sprinter has been a hit ever since it was introduced 11 years ago. The van set new standards in build quality and driver comfort, while offering power with performance. In that time, 1.3 million units have been produced enhancing the reputation of this fast lane legend. In other words, the current Sprinter will be a hard act to follow, and yet that's just what DaimlerChrysler have done, but it has cost them some 1.8 billion to develop the king's successor. The story behind that is contained in an exclusive interview with Peter Alexander Trettin (overleaf), but for now we'll concentrate on the new van.
The new engines are not so much 'new' as 'new generation'. The current four cylinder 2148 cc OM 646 CDI turbodiesel engine has been completely redesigned and heavily modified and comes in four output ratings, 65 kW (88 hp), 80 kW (109 hp), 95 kW (129 hp) and 110 kW (150 hp). The new engines not only deliver more power, they generate more torque with even the lowest powered option producing 220 Nm while the top of the range four pot has 330 Nm. That means the 110 kW version is just as powerful as the previous top of the range five cylinder Sprinter unit.
Mercedes-Benz is also claiming better fuel economy for the new engines but this was hard to assess on a limited run during the launch of Mercedes Accessories in Austria. Otherwise, the engines do what is claimed, pull well and fast! But the power hike doesn't stop there. There's another new engine, a 3.0-litre V6 unit developing 135 kW (184 hp) with 400 Nm of torque. The compact V6 is a thing of great beauty with an aluminium crankcase, a balancer shaft and two overhead camshafts per cylinder bank. And there's another bonus, it sounds as good as it goes, almost sexy with its low multi cylinder rumble.
The new Sprinter catalogue should make interesting reading when the van goes on sale later in the year for the options list will have to include almost one thousand different versions. There are three wheelbases 3250mm, 3665mm and 4325 mm with four lengths (in the case of closed-body versions) from 5243 to 7343 mm and three roof heights. GVW ratings range from 3.0 to 5.0 tonnes and the panel van range offers load space volumes from 7.0 to 17 m. Another practical innovation is the use of optional super-single rear tyres for the 4.6 tonne version. These 285/65 R 16 C tyres take up less room than twin tyres and therefore provide a greater loading width (1350 mm) between the wheel arches on the panel van. They also reduce rolling resistance. Coupled with the 1300 mm wide sliding door and the vertical van sides, new Sprinter has maximized an impressive amount of practical load volume within its footprint. Since the introduction of its first generation in 1995, the Sprinter traditionally has played an important role in the van unit's success.